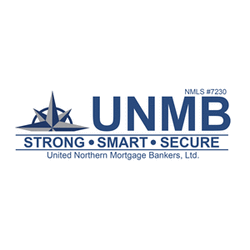 United Northern Mortgage Bankers
Loan Opener- Levittown New York Location (On Site)
Levittown, NY
Company Overview:
UNMB Home Loans Inc., trusted since 1979, is a thriving award-winning mortgage banker with an impeccable reputation.
Our Mission
Dedicated to providing superior home financing solutions and customer service in an honest, ethical and transparent manner with warmth and empathy so that: CLIENTS recommend us to their family and friends, REFERRAL PARTNERS refer us to their clients, EMPLOYEES are proud to be an integral part of our team and COMMUNITIES value our presence.
What Youll Love About Us
Great Company Culture. Recognized as a top workplace by Newsday, National Mortgage News, National Mortgage Professional, and Mortgage Executive
Rest and Relaxation. Generous vacation policy and work-life balance with 10 paid holidays and 5 days paid time off
Health Benefits. Medical, dental, vision, and disability
Prepare For Your Future. 401(k) with company match
Growth and Learning. Internal and external subject matter experts host training to advance your professional and personal development
Recognition and Appreciation. Our Spirit of Excellence and Presidents Club Awards recognize individual team member achievement with merit bonuses also awarded.
We welcome you to reach out and explore your opportunities.
We are here to help ensure your success with lots of training - some mandatory and some at your own pace. The tools to succeed are handed to you once you begin your career with us. Now is the time to be a part of something better what are you waiting for?
Job Description: Loan Opener (On-Site Only)
The Loan Opener is responsible for the initial input of data required to open mortgage loan applications as well as initiating the necessary steps to begin the application process.
You will confirm that all information in loan files are accurate and compliant with policy. Request services and verifications of multiple vendors. Order corrections and verifications when applicable. You will be responsible to submit file to Operations and assign Loan Processor to the loan process.
This is a full-time position. Starting salary will be commensurate with experience. Medical Benefits are available after 60 days of employment, 401K participation available on the first day of hire.
You Will:
Request tax transcripts.
Order FHA case numbers.
Obtain verifications.
Run flood certifications, DU/LP & Mavent.
Ensure loan files contain all necessary information/documents and are accurate and in compliance before submitting file to a Relationship Manager.
Secure all appropriate documentation needed to move Loan from Opening, to the Relationship Manager.
Be self-motivated, detail oriented and organized.
Disclose & Redisclose loans.
Possess excellent time management skills.
Strong communication skills with all team members.
Be a quick thinker who is skilled at seeing a task through to completion.
Maintain a positive rapport with all facets of Operations and Processing staff.
Room for professional growth within the company for the right candidate.
UNITED NORTHERN MORTGAGE BANKERS, LTD (NMLS# 7230) is an Equal Opportunity and Affirmative Action Employer committed to workforce diversity. All qualified applicants will receive consideration without regard to race, religion, age, color, gender, color, gender identity or expression, sexual orientation, national origin, disability status, marital status or veteran status. Requirements listed above are representative of the knowledge, skill set and/or ability required to successfully execute the job/position listed.
Reasonable accommodations will be made to enable individuals with disabilities to perform the essential functions of the job. Please inform us if you require a reasonable accommodation to apply for a position or perform your job. Employment is contingent upon successful completion of a background investigation.
Skills & Requirements
You Have:
Experience with issuing disclosures/changes of circumstance
Associates Degree or equivalent work related experience.
Strong communication skills.
Experience in Microsoft Office applications.
Prior experience in the mortgage industry working with Encompass loan origination system is highly preferred.
Working knowledge of mortgage loan documentation/terminology and products required.
Positivity while engaging with business associates.
Experience using appraisal management systems preferred.
We will provide some training for this position!
Salary Comment
Commensurate with Experience
Work Type: Full Time
Locations
Corporate Office
3601 Hempstead Turnpike, Suite 300 - Levittown, NY 11756
Posting Admin: Andrew Boney (aboney@unmb.com)
76297620
76297620